admin
Super-sweet datterino tomatoes

Let's discover their main characteristics and a traditional method to preserve them to taste them throughout the year

Among more than three hundred varieties of tomatoes grown in Italy, today we'll focus on the Datterini tomatoes, an authentic explosion of flavour and colours that will surprise your tastebuds.
ID: physio and organoleptic characteristics
Small in size, Datterini tomatoes are an intersection of Asian origin and they have recently entered the Italian market. These tomatoes have an elongated shape, similar to that of a date.
Their skin is thin; these tomatoes are poor in seeds and characterized by a firm texture and intense bright colours: red, yellow or orange.
The weigh ranges between 20 and 40 gr. Moreover, Datterini tomatoes reportedly have a great shelf life.
Their flavour is sweet and intense, which makes these tomatoes versatile and suitable to be used in various yummy recipes.
As any other type of tomato, Datterini are a great source of antioxidants, minerals, vitamins C and A, however they have higher sugar levels.
Did you know that…
Datterini and Ciliegini tomatoes are two different varieties: both are small in size, but the first one has higher sugar content, while the second one is far more juicy.
Learn why tomatoes are great for your health
Compared to red Datterini tomatoes, yellow datterini tomatoes are characterized by the total absence of acidity, and, probably due to its inspiring vivid colour, they often used in salads, as well as in gourmet recipes. 
The peculiar taste embodies a perfect balance between sweetness and acidity.In Italy, the season for tomatoes, and Datterini as well, goes from May till September. Datterini variety is not always available to buy, however there is an option to taste them all year long: Pacchetelle from Campania and Basilicata is traditional datterini tomato conserva.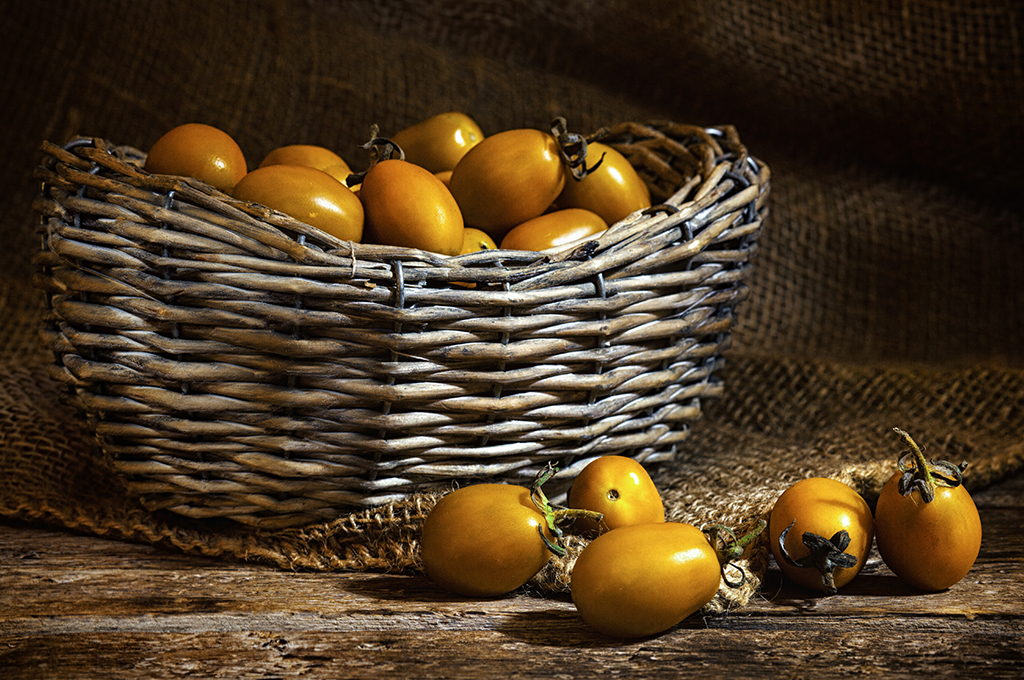 Pacchettelle: a ancient tradition to preserve the taste
Pacchettelle refers to the traditional method used in Campania and Basilicata to preserve datterini tomatoes, harvested between July and August and maintain their flavours, vitamins and antioxidants all year long.
What is this method about?
These tomatoes, especially those red and yellow ones, are hand picked when they are perfectly ripe. Then, they get washed and cut into wedges. Later they are put into a jar covered with their juice and the jar will be hermetically sealed.
Datterini Di Carlo Tutto Italiano are handpicked in Campania. The fruits do not get chopped, they get covered with their juice to make the most sophisticated, rich in taste and healthy 
conserva.
Cooking tips: how can I use pacchetelle?
Once the pacchettele are sealed in the jar, the product is ready. Generally you can enjoy it as it is without any further cooking, or just blend it to get a creamy tomato soup, otherwise you can add it to your favourite recipes.
Yellow datterini tomatoes are perfect to prepare sauce and creamy soups, like a sweet pumpkin and carrots soup. 
You will be amazed by this unique product, let your creativity inspire you to make interesting food pairings: the sweet taste of datterino matches perfectly with strong flavours, such as capers, anchovies, truffle and the spicy pecorino cheese. Not to mention, you can add it as a creamy, colourful and tasty sauce to your pasta and rice.
Get inspired by our recipes with Datterini tomatoes conserva:
Datterini soup with tofu and cruschi peppers
Zucchini flowers with Red Datterini tomato coulis