admin
Cruschi peppers: the red saffron from Basilicata
Cruschi peppers, also known as "the red gold from Basilicata": a key ingredient in Basilicata culinary lineage, as well as in Michelin-starred recipes. Let's discover their characteristics, nutritional and interesting facts and also some cooking tips from our experts.
Among the delights from Basilicata are Cruschi, sun-dried red peppers. Cruschi peppers are a typical product from Basilicata, specifically the area surrounding Potenza and Metera, where a local type of pepper is grown and used to prepare them. The peppers undergo a special preparation to make them so deliciously crunchy or "cruschi"
Not all type of peppers can be Cruschi
This type of pointy dark red peppers is not longer than 15 cm; they look like chili peppers and they are perfect for drying, getting super crunchy.
However, as much as they can look very similar to chili peppers, the flavour is completely different: chili peppers are hot, while Cruschi peppers taste sweet as their scientific name clearly states Capsicum annuum dolce, where dolce means sweet.
This type of pepper is extremely rich in vitamins A, E and K, not to mention that it contains a far higher concentration of vitamin C, if compared to other types of peppers
Another peculiar characteristic is that they are very low in moisture, hence they are perfect for drying
This type of peppers, today typically known as a product from Basilicata, actually comes from Antilles: Spanish conquistadors brought it, as well as tomatoes, to Italy between the 16th and 17th centuries
* Crosslink ad articolo Pomodoro, passione mediterranea
Today cruschi peppers are an authentic local speciality, also known as "Pepper from Senise", a hill town located near the Pollino National Park. Moreover they have the IGP protected-origin status. 
Did you know that…
In the local dialect the crusco pepper is called Zafaran, that reminds the word "zafferano" (saffron), the precious yellow-orange spice brought to Basilicata by Arabs. In fact in the past cruschi peppers were ground and added to enhance the flavour of the salami or used for food preservation.
For the same reason, cruschi peppers are also known as "red gold", referring to their history, tradition and unique taste.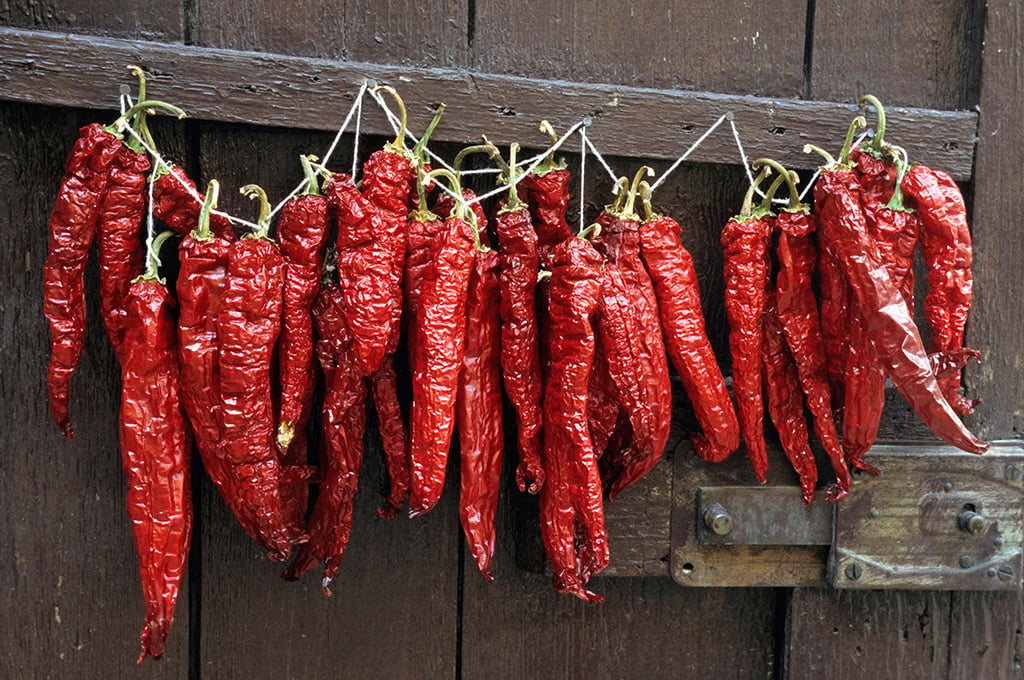 Just 6 steps: from a pepper to a crusco pepper
After having thoroughly described the type of pepper used, let's discover the process that turns a pepper into a proper crusco pepper:
Sowing

Harvesting

Drying

Stringing into

"serte"

Exsiccating

Frying
Sowing occurs in springtime and later peppers are harvested by hand around early August. 
Following the harvesting, peppers are wrapped up in cloths or placed on racks to dry, and stored for a couple of days in a dark, dry and ventilated location.
Then, just before exsiccating them, peppers are strung into necklaces or "serte".
These long necklaces are handmade: according to the tradition, to keep all the peppers together locals actually sew them by using needle and thread. 
Once the peppers are dry, only the best ones are selected, then those are strung into necklaces.
Then exsiccation stage starts: these beautiful red necklaces are hung outdoors to dry in the summer heat.
Walking down the streets in those small borghi in Basilicata, you might come across these stunning red necklaces hung on balconies and windows.
The exsiccation ends when the moisture content is just 10%. After the exsiccation, eventually peppers can be baked in the oven for a very short time
Now the peppers are completely dry: it is time for the final stage that will turn them into a proper crusco peppers. Frying will make them deliciously crunchy.  
Here some pieces of advice from local experts to get the best crispy and crunchy peppers:
Gently clean and rub peppers with a dry cloth

Soak them in hot water for few seconds and add extra virgin olive oil or peanut oil

Quickly fry them, flip them a couple of times, making sure they are not burning.

Take them out and let them drain on paper towel

Alternatively let them sit in the freezer while they are still hot: the thermal shock will make them super crispy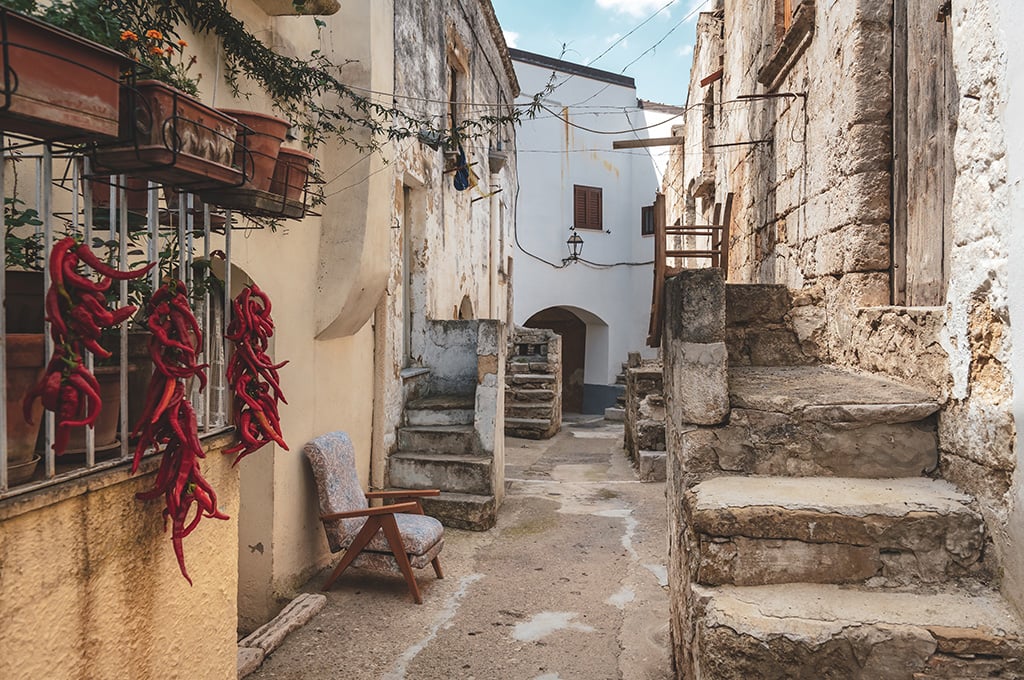 How can I cook them?
Cruschi peppers are extremely versatile: they can be enjoyed as a snack to nibble, or added to any type of recipes, from traditional ones to those fancy and sophisticated dishes. 
We list here some of the most popular recipes featuring the cruschi peppers, Cavatelli ammollicati with cruschi peppers and fried bread crumbs, Orecchiette with friarielli, cruschi peppers and pecorino cheese, Baccalà alla lucana (the oil used to fry the peppers is added to season the salted cod), Pizza with cruschi peppers, sausage and friarielli.
To give that extra yummy kick to any of your dishes, from risotto to grilled chicken, just sprinkle our crusco pepper powder.
Check out our Mediterranean recipes
Where can I buy them?
If our article gets you hungry, then that must be the question you might be wondering.
You can easily get cruschi peppers in those areas where they are grown, like around Potenza and Matera: you can buy them fresh or get the traditional necklaces. Otherwise, outside Basilicata, it is very hard, almost impossible, to find.
What to do?
On our online store, within the section devoted to food specialties from Mediterranean cuisine and Basilicata, you can buy our Dried peppers and, following our recipe, you can masterfully cook your cruschi peppers!
* Crosslink a scheda prodotto PEPERONI SECCHI DI CARLO TUTTO ITALIANO